"About the Only Boat Salvage Yard Resource You'll Need..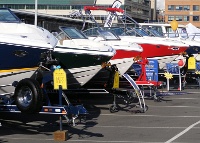 Use the links below to quickly finding a boat salvage yard or a marine salvage auction near you. Sources include salvage dealers that liquidate boat insurance salvage parts or other marine equipment to licensed dealers or dismantlers but also to the general public as well.
A quick way tofind any type of salvaged asset is to frequently scope out local or state boat salvage auctions. The good news is that today this can be done online without having to leave your home.
Once you find a repairable vessel that interests you that's within reasonable proximity, you can attend a preview to find out a little more regarding the boats true condition and history.It's important to do your research as to the vessels fair market value as well as the costs of repair.
Buying salvage whether it be boats, cars, rv's, homes, etc. is great for DIY's who are motivated by the before and after photographs that can be quiet astounding. I often find the taxing process of restoration as gratifying as the finished product.
If you're at all seriously interested in deeply discounted boats whether it be boat insurance salvage, Government or bank repo boat salvage auctions
And you don't even need to be a licensed dealer or dismantler..
BoatAuctionsDirect.com should give you a good start... This has now been for me...THE main go to, find it fast, boat salvage yard resource where I can view the top sources under one roof.
Boat Auctions Direct aggregates than categorizes their auction database on a national, state, and local level. It's one of the few resources where Boat salvage yards are included. Members are able to bid either online or off. Unlike other resources this is one of only a few legitimate auction resources that updates and grooms their inventory for new auctions then forwards that new info. to their members.

SmithsBoatSalvage.com is located in Braxton, MS specializing in Fiberglass boat repair, boat recovery and transportation. Boat salvage sales can be found via. their Ebay store.

BoatSalvage.net or Pinellas Marine Salvage, Inc. works primarily with boat insurance salvage recovery and sales. They're currently based out of St. Pete/Clearwater, FL.

MMSalvage.com is based in Merideth, NH specializing in salvage boats but primarily stripping down boats and salvage boat parts and equipment.