Florida Boat Auctions: Top 5 Honey Holes?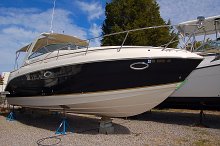 I love the moment when I realize I've just found a bargain boat (whether via. a Florida boat auctions sale or bank repo) that I can actually use, and later sell for a potential profit. That would make any wife proud!
What I don'tlike is the time and effort that it can take to get to that moment. At least thats how it used to be until I found my new "honey hole" for quickly find bank repo boat auctions in Florida. And I'll give you the two places you don't want to waste your time. I've been at boat auctions almost full time for 8 years now so I've run acrossa lot of derelicts.
Realize that it's easier than you think to find a good boat at auction and honestly negotiate to get it the best price. If you have the right tools you can get'r done a lot easier, faster, and better..but, more on that later.
First, my Florida auction "honey holes" (I save the best for last)...
5. BoatandRVLiquidators.com

What Boat and RV Liquidators is in between Tallahassee, Florida and Mobile, Alabama on the West side of Mary Esther, Florida. They liquidate fishing boats, bass boats, yachts, RV's, trailers, outboard motors, equipment and all kinds of other marine related repos.
4. BoatMart.com
These guys are located in North Florida just off Beach Blvd in Jacksonville. They do have a decent amount of affordable boats that come in the form of bank repossession, consignment inventory. You can find their used boat saleson Boat Trader as well.
3. Insurance Auto Auctions
I really don't like to mess with salvaged Florida boat auctions for a few choice reasons. Namely, it can make an already dirty job get bad nasty. If you're married I would even suggest you sit down with your significant other and have a heart to heart discussion before tackling boat salvage. Anyway, IAA offers well over 500 damaged boats and up for auction online. You can visit any of their Florida auction branches including: Jacksonville, Orlando, Clearwater, Tampa, St. Petersburgh, Fort Pierce, Fort Myers, Sunrise, and good ole Miami Florida. (I've witnessed some interesting repo boat auctions in Miami, Florida that will probably scar me for life). But, you can visit their site online to preview boat salvaged inventory anywhere across U.S.
4. National Liquidators
Unless you've been living under a rock you've heard of Nat'l Liquidators (yachtauctions.com). They're considered the largest in the U.S. And have a branch in South Fort Lauderdale, Florida. You can find a few Government boat auctions in their Florida branch but most of their 300-400 boat inventory consists of Florida repos from banks and dealers. Most of their inventory is yachts so you're not going to find a lot of cheap bass or fishing boat auctions unless they're higher end vessels.
So, what will dramatically improve your probability of buying a beautiful discounted boat that will make your neighbor jealous and perhaps even your wife proud is simply just looking at a lot of boats. And not retail but the kind thatgo up for auction.
You can't expect to find a great deal just spending a half hour on boat traderand your local classified section. But, at the same time who has the time to spend onsifting hours on end for that diamond in the rough?
Well, this should help...
---------------------------------------------------------------
Top Florida Boat Auctions 'Honey Hole'
#1 http://www.BoatAuctionsDirect.com
If you want to find a good deal you have to look at a lot of boats. The source I use to find Florida boat auctions online is Boat Auctions Direct. For a one time fee they dig, search, weed out and then finally categorize discounted boats from all across North America and especially Florida. So, instead of looking at one site at a time spending hours of work -- let these guys do all the heavy lifting for you. If you're looking for a Sea Ray at a South Florida boat auctions sale or listings within your area just select that or any manufacturer for that matter and you'll have access to motivated seller listings within seconds.

---------------------------------------------------------------
That's how you can seriously get'r done. And most buyers won't get the same advantage.
If you don't find what you're looking for just setup an alert and get notified asap. Just think, you'll never miss out on a Florida boat repo sale again.
Some sites that may not be a good investment of your time are the Police or Government auction sites. Unlike car auctions, the Government or the U.S. Coast Guard doesn't seize and confiscate boats every day so you're not going to find much inventory worth your time.