"Bank Repos and Government Seized Boats Are Makin' New Headlines."
Government seized boat auctions will help you float your boat for pennies on the dollar – and that's no "Bull!"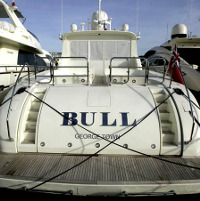 Bernie Madoff's 55 foot yacht is one of thousands of seized boats you'll find on the auction block this year, but for now it's making a splash thanks to its infamous former owner.
Valued at a cool 2.2 mil, the chances of the vintage 1969 Rybovich – appropriately dubbed "Bull" – making head waves under your own feet are probably pretty slim, as not too many folks are touting pockets that deep.
Investors still willing to opt for a "Little Bull" off of ol' Madoff, however, might be interested in his 24' repo motor boat instead. Both vesseels are recent additions to a roster of government seized boats for sale.
The mental image brought to mind by the words "seized auctions" probably isn't a flattering one, but Madoff's ridiculously clean, police seized yacht ought to go a long way toward dispelling the myth. Rumor has it that there's not a speck of dirt to be found – not even in the engine compartment.
Realistic Expectations
Most boat seizures aren't going to hit the auction block in mint condition, but you may be surprised to find that many are showroom new. Low hours, gleaming fiberglass, and a rock bottom price tag are not uncommon to find at boat auctions. The highlight, of course, is the sale price. Number crunchers will relish these facts:
The NMMA reports that the price of a new boat in 2008 averaged $465,365. Once those new boats were seized (by the government or the repo man) the going rate watered down to about half that amount.


Late model cruisers stretching 30 feet or more in length have sold for an average of just 52.3% of their value – a whopping 47.5% savings!


If a picture is worth 1000 words, start talking. Boat Auctions Direct has a list of actual distressed boat sales that will knock your deck shoes off. Their list includes an impressive bank-seized 34' Sea Ray – a late model in good condition – which sold for a whopping $60,700 off the $155,200 appraised value!
Salvaging Seized Boats
Obviously all seized auction boats aren't going to be sea-worthy from the start, but that's more than overcome by the phenomenal savings if you have the time or patience for a repair. These boats may not be turn key, but the prices are jaw-dropping.
A lucky buyer will be soon cruising in a late model 20' Pontoon with an extra $10,200 in his pocket. The vessel sold with only minor damage for just $5,900.


A buyer willing to replace a few cushions and make other cosmetic repairs pulled home a stunning 28-foot 2006 Chaparral with a starting bid of $29,900 – trailer included!


A bank-seized 2000 Starcraft with a trailer went for a meager $1,150. The 17-footer, as-is in average condition, was valued at $8,100 – a savings of $6,950!
Locating Seized Auction Sales
If you're not slathering on the SPF and breaking out the Bermuda shorts yet, you're a land lubber for sure! For the rest of you, Boat Auctions Direct really delivers the seized goods. Finding Bank and/or Goverment seized boats for sale, including seized sailboats and luxury yachts used to be difficult...but not now. Their searchable database includes state and local government seized auctions, along with resources for seized boats that landed in the salvage yards.
We're gazing through a wide open window witnessing a boat buyers market unlike anything we've seen in history. Bank repos and police seizures, like Madoffs Yacht, are indicative of what's still lies ahead.
So, right now we may actually have a realistic chance to make our next boat purchase a 'smart investment'. Even if you aren't buying any of Madoff's "Bull", there's still other repos that will fit about anyone's wallet.