Repossessed Boats: Making Offers to Lenders...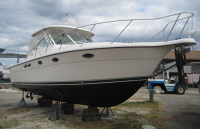 Most repossessed boats can be bid on at auction. When a boat owner defaults on his loan, banks find themselves with a non performing asset they need to get off their books.
Banks typically use a local repo outfit who will then track the boat down in a backyard, marina or a garage to quickly haul it to a storage facility where it is later sent to auction.
Websites like BoatAuctionsDirect.com have been busy relentlessly aggregating and categorizing distressed owner and lender auction sources enabling buyers to make offers on boats, pwc's, yachts, atv's, rv's, motorcycles, marine parts or equipment...
In addition since lenders right now are tied up with home foreclosures, it's near impossible to get them to even consider any offer on any of their repossessed collateral, particularly boats. So, the resource above is a quick way to get inside without getting the run around.
On the verge of repo owners..
An often overlooked repossessed boats resource to consider is the classified section in your local newspaper. Classifieds often reveal less sophisticated boat owners who don't really know the real value of their vessel or they've found themselves in a position where they just don't care anyway...
Sometimes these motivated sellers will resort to classified ads (online or off)to get rid of a boat quick since:
their loan is over 2 months late and in default
their bank is breathing down their back
they just want to let it go to anyone to avoid a repo
Don't under estimate that possibility.
Call those ads and ask the right questions and you could find the deal of the decade. Of course, that's not the only option...nor is it the most efficient...
Below is the latest and perhaps the fastest option that is taking hold in the repo underworld
I'm sure you've figured out by now that reposessed boats are not as readily available to the public as most tend to think. As it turns out, local dealers or auction houses will usually be the first to be alerted when banks and lending institutions need to get rid of their boat repossession.
So it might help to know the names of lenders who finance boats and get your name on their calling list by letting them know you can give them a bit more than what a dealer might offer.
But, don't expect a quick answer.. Conducting a search online for repossessed boats is becoming increasingly more popular due to the significant savings compared to retail. But, that comes with a price as some repos need extensive repair work. A $5,000 vessel may need $3,000 worth of engine or hull repairs. Repairs that the previous owner decided to neglect passing it on to the lender.
But, the good news is when it's all said and done you've just created another $10k in equity.
Repos may seem like a headache for some yet for others this is a rare opportunity for either a bargain boat to be used personal use or one to restore and "flip" for a quick profit. This is especially true for those good with their hands. The bottom line is that with a little work repos can make a "do it your selfer" a fun project or good money.
Getting inside to make offers..
Finding a repossessed boat can be quiet a task as boat auctions are a challenge to find and keep track of. Repos seem to find their way into local boat auction houses or even credit union parking lots.. not to mention State and local Government auctions as well.
You can easily do a Google search and negotiate with some of the heavy hitter auction houses. That's by far a cheap, time consuming route ventured by the general populace.
Trouble is online sources are becoming more and more misleading and superficial. Many talk about repos only to list a few ebay auctions that may or may not have repos up for bid. Second, your competing against the masses...
Third, even if you find a few sources you may be limited to reserve auctions...but you really want to be able to make offers to lenders without any reserve.
A brand new website this year has tapped into auctions across the country even Canada and enabling users to access specific sources whereby they can submit offers to lenders and credit unions. You find them at BoatAuctionsDirect.com.
This site simply aggregates, compiles, and delivers sources that specifically auction off repossessed boats and other marine related assets for liquidation. I've not seen any auction source maintain this kind of depth. It's a relentlessly updated database of federal, state, and local boat auction sources that liquidate yachts, pwc's, snowmobiles, atv's, rv's, motorcycles and marine parts/equipment.
And that's their big and only niche..
I've been surprised at what lenders are will to accept right now..As a member I've got access to a whole host of focused auctions -- bank related and government related auctions sources that most don't even know exist.
My second ranked site for reposessed boat auctions can be found at
marinelendersservices.com.
Based in Seattle, WA this company has a great reputation by offering a variety of services to banks, private lenders, local police, and attorneys in the seizure and sale of all types of marine vessels. These guys have been around for a long time and their experience and knowledge particularly with repossessed boats have proven invaluable.
If you can muster the patience keep frequenting internet and local auctions particularly those that list
repo boats for sale.
Keep talking to local lenders or online boat lenders.
Watch the classifieds, and local boating publications, as well as search engines and you will inevitably get rewarded.
(So, if you're like me and don't have the patience, time or stamina the better alternative is...


Online Auction Databases
Online auction databases do all the research leg work so you don't have to. It really does take time to find legit auctions since most auction organizers aren't good advertisers. If someone's already put in a lot of time and effort to find and regularly update what I need, then I don't mind paying a few bucks for lifetime access to that research.
Take a look at the navigation bar above, it will lead you to a free repossed boats directory that I hope will get moving in the right direction. If you are a lending institution and would like to offer a link to your repossessed boats available for sale please contact us if boatauctions.info can be of service.