Where to Find Repo Boats for Sale and On the Verge of Repo Owners!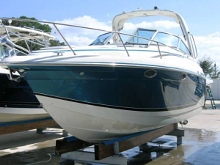 If you're looking for relevant sources for locating repo boats for sale you should find this page helpful. Below are a handful of links that will save you some time and your wallet. Boat repo sales can come from multiple sources..each of which can take considerable time and effort to research...
However, below are several resources you can take a look at that will get you headed in a good direction quickly and will provide repos in abundance.
To begin, classified ads may be the most popular and convenient means of finding repo boats for sale whether it's online or off. If you're in the market for a discounted boat, local classified ads can offer you a convenient selection of motiviated owners who are in some instances behind or on the verge of lender repossession.
Often you can find lenders advertising their repo boats for sale via your local classified ads
An alternative means for locating bargain boats are via. state wide boat auctions. Although difficult to find, repo boats sales, government auctions, and even boat salvage auctions are often overlooked or under valued as a means towards buying cheap.
The risk-reward relationship associated with these sources are especially attractive to those who aren't in a hurry to buy. Patience is truly a virtue with boat repo sales auctions. You can click the navigation bars on the top left side of this page to further investigate these sources.
Boat shows are popular places to find "bargain" new boats, but keep in mind that boat show dealers don't always maintain a service shop or at least one within reasonable proximity should you need repairs done later.
When looking for a newer boat try looking around July at the end of the model year (the boat model year begins in August) but also look for good deals on new "leftover" models sitting on unsold dealers' lots from previous years.
You can easily find classified ads in your local newspaper or weekly publications in most gas stations that will provide a number of motivated prospects. However, I've found it not so simple online.
The following sources are reputable online have been around a while providing some of the best user friendly and organized databases of boat repo sales as well as a generous selection:
Top Online Boats for Sale Sources:
---
BoatAuctionsDirect.com is a new and growing source for those looking for repo boats for sale via. dealer liquidations, sheriff or lender liquidation auctions across the country. This site simply aggregates and organizes rock-bottom bargain boat, pwc, rv, motorcycle, and atv sources and organizes them by state.
You can check the number of auctions in your area for free. Lots are categorized by state, giving members access to government seized yachts, personal watercrafts, trailers, atv's, rv's and lender repo boats for sales.
Check out these repo boats for sale. Their suprising condition and who's sending these repos is a sign of more to come:
AuctionsPass.com
offers a broader auction asset base that covers anything and everything that gets auctioned off across the U.S. They don't have the depth that BoatAuctionsDirect.com offers since they cover everything from SUVs to antiques and about everything in between including several repo boat sales sources.
Auctions International
is based out of buffalo, New York and offers a wide array of must sell assets. Live online auctions offer repo boats, boat equipment, vehicles, tools, equipment and other obsolete and surplus merchandise from government and municipal agencies throughout the Northeast
Boats-For-Sale.com
allows you to search for private owners or brokers' boats throughout the UK and Europe.
Used-Boats.com
is another site dedicated in showcasing over 85,000 used boats for sale. Type "repo" in the search block to locate reposessed boats for sale. Whether you're looking for a used lund boat, pontoon boat, or a crestliner, usedboats.com has a respectable database to choose from.
YachtWorld.com
has one of the largest photo database of boats and yachts for sale online. Over 74,000 boats for sale by over 1,500 dealers and brokers.
iBoats.com
has a very popular and user friendly classified section of new and used boats. Highly recommended resource for prviate buyers and sellers.
eBay!
is an often overlooked source for buying used boats or watercrafts. Many desperate on the verge of repossession type sellers can be found via Ebay. Registration is free.
---
This resource will be revised and updated as new sources come available. Other alternative sources are listed on this site for free and can be found via. the navigation bars.